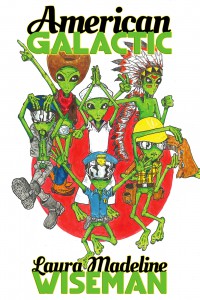 Martian Lit is proud to announce the release of its first book of poetry: American Galactic, by Laura Madeline Wiseman
Opening with an epigraph from Charles Simic, "Lots of people around here have been taken for rides in UFOs," American Galactic, Laura Madeline Wiseman's fourth full-length book of poetry, explores the sci-fi realm of Martians, crop circles, abductions, and how the human race faces an extra terrestrial invasion. From pop culture films like "Planet of the __________," to comic-book icons like Poison Ivy, to the larger literary imaginary of the red planet's inhabitants, American Galactic charts the intergalactic tale right here at home. Find out about "The Left Boob of Largeness." Learn "What do Martians Want." Understand "Why not to Buy Martians Sundaes Topped with Cherries." And ultimately enjoy these "Close Encounters of the Third Kind" in this bold new book of sci-fi poetry.
"Warning: south of the train tracks, a Martian dream. Stranger still, habitable worlds abound. Wander through them, the lunar greenhouse full of NASA-planted lettuce, the fields of genetically modified soybeans, the tips to save your life. Like a Martian, 'ooh and ahh at crescent moons, the meteor showers.' Absorb this motion, before it vanishes. What's staged and what's real? What mechanism clears away panic and fear from a landscape, until it awaits pilgrims? The answers, or not-answers, are within the galaxies of American Galactic.
– Monica Wendel, author of Call it a Window and No Apocalypse
"Look out, the Martians have landed! And they're having a poetic romp with Laura Madeline Wiseman. Her narrator opens the door 'with a bowl of chocolate, suckers and quarters,' and the little green creatures move right into her house, her garden, her outings, her community… even her mind. By the end of this quirky, imaginative, and well-researched collection, you'll wonder whether we all indeed carry around our own Martians."
– Ellaraine Lockie, author of Stroking David's Leg and Coffee House Confessions
"American Galactic is a reminder that good astronomers and great poets are driven by imagination. These interplanetary poems are rich with it, taking the reader on a trip to new, unexplored landscapes with heart and humor. Playfulness, curiosity and surprise infuse the poems, in which Laura Madeline Wiseman puts the reader right up front in the face of 'the other,' to confront a stranger, strangely familiar."
– Sarah J. Sloat, author of Home Bodies and Inksuite
"The Martians have landed in American Galactic, and the more Wiseman reveals about those little green aliens and their odd habits, the more we learn about our own human nature. This collection is more fun than a Cold War sci-fi flick plus a bag of buttered popcorn."
– Julie Kane, author of Rhythm and Booze and Paper Bullets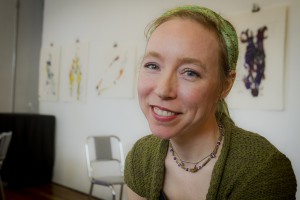 Laura Madeline Wiseman is the author of American Galactic (Martian Lit, 2014), Queen of the Platform (Anaphora Literary Press, 2013), Sprung (San Francisco Bay Press, 2012), and the collaborative book Intimates and Fools (Les Femmes Folles Books, 2014) with artist Sally Deskins, as well as two letterpress books, and eight chapbooks, including Spindrift(Dancing Girl Press, 2014). She is the editor of Women Write Resistance: Poets Resist Gender Violence (Hyacinth Girl Press, 2013). Wiseman has a doctorate from the University of Nebraska-Lincoln. She has received an Academy of American Poets Award, the Wurlitzer Foundation Fellowship, and her work has appeared in Prairie Schooner, Margie, and Feminist Studies. Her website is www.lauramadelinewiseman.com.
American Galactic sports a cover by Christopher Coffey. The book is available now both in print and on Kindle. Read more on the book's official page and its Facebook page.