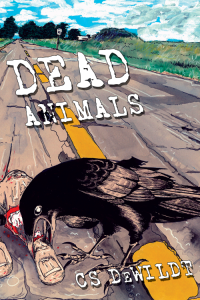 CS DeWildt's Dead Animals, a short story collection published by Martian Lit, is winning tremendous praise as an innovative literary offering that is at once realistic and mind-bendingly troubling.
J.J. Anderson, author of Trailer Park Juggernauts, says unequivocally that "Dead Animals by C.S. DeWildt is the best indie-published collection of noir short-stories ever written."
Mike Monson calls Dead Animals "great… illuminating… poetic… totally original and totally delightful." He adds that the book "will change how you look at things."
The Small Press Book Review calls Dead Animals "a dark collection of poignant rural noir with echoes of Hemingway and Carver."
In addition, CS DeWildt has done an interview with Gessy Alvarez, in which DeWildt discusses his work, including Dead Animals.