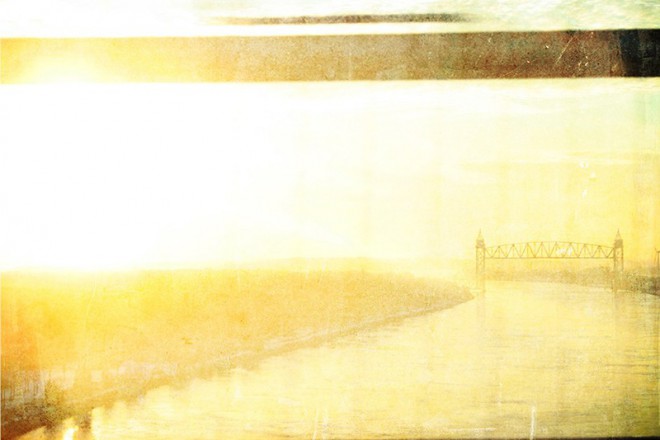 Speaking of my Goya: I had it handy when Arlo Guthrie's
"Alice's Restaurant" came out: I had read Woody's
fictionalized autobiography, Bound for Glory
(E.P. Dutton: 1943): somehow Arlo's
twenty-minute song-story-recitation
moves right along with the 60's. Woody Guthrie,
Oklahoman, died, 1967, Huntington's disease,
the young folk singers and composers coming
by to see him, including Bob Dylan.
"This Land Is Your Land" is true: it
shows the score: The mind's chaos, sometimes,
especially at close of day, when the sun burns
terror far off and again in the mind, Nin feeling
every detail the settlings drift in "the trough"
which keeps hulling itself for her inundation,
as I say, worse as Night Thoughts wake up
shaking the sun's reflection: a chair in the big
room gathers Nin into that light, her dimmer
browning among lines leaving me ragged as a
human being can be, tossing and turning,
waiting and yearning for glimmers to patch
our haggardness − health-plan from Blue Cross-Blue
Shield Family to MediCare A, B, & D
(hospitals, doctors, prescriptions). The sun
in the morning patches the porch, the yard:
the falling leaves from the poplar slide by Cricket's
wheat-colored pose sprawled on the bricks,
half in and out of shine: she knows what it's like
to play the shadows, though last night she scratched
her Bean bag, making her bed, and tinkled on the blue
flowers covering the inner lining. Merle Haggard
has been pardoned for his juvenile transgressions,
though he blends those early detentions into his
compositions. The crows caw over the tall
pecan-trees greening brown toward ripeness
as the mourning doves fly higher, straighter
now that dove-season's in. The mockingbird
seems less heartless, not so much bent on
claiming territory as he was a month ago:
Haggard's associated with Bakersfield, California:
a gabble of Canadian geese just scared Crick and me,
honking and veering real low down over
Derek's Canopy: when Haggard got low, his music
lifted him through and up out of the times
he served Time, surviving his success of
being a star. Like Hank Williams, Lefty Frizzell,
and Don Gibson, Merle Haggard's a songwriter-singer-poet
of the "common people": "I'm a Lonesome Fugitive,"
"The Bottle Let Me Down," "Swinging Doors," "Mama's
Hungry Eyes." "Sing Me a Sad Song" he got from
Wynn Stewart, a Bakersfield performer too:
Hag heard Wynn sing the song, asked to record it:
Haggard's career shot up, out, scattering into daytime
variety shows, starting in the mid-sixties after he
recorded a song he named his band after,
Liz Anderson's "From Now on All My Friends
Are Gonna Be Strangers," his rambling days as rebel
shaping Merle Haggard, the entertainer-singer-artist:
I think that's what I'm trying to do: Nin's depressed
and I'm in H forward and back to her, asking for
help in our song, this mindful indulgence
full of contrarieties: words cannot express
my hurt for Nin who seems to translate into
herself everything she sees − to her, not distortions,
but to me, real tortuous upheavals of missed
perspectives, there being many, it's true; take away
one stress, a boulder in the way, and another pops up.
She renders in mumblings my telephone heaves
with our son or with our bass player. Nin's responses
jack discourse out of context, while we play and sing
and have a good time as she cycles, with or without Help
from EMSAM, lamictil, saphris, zyprexa, wellbutrin,
prozac: maybe she will be able to account a shape for
our finances: right now her song's the "End of the World";
I feel bad just writing that: I must go on − let go, wanting H
to hold my hand out of harm's hole, bear me up, with one
vertical plank on the left and another on the right, a
piece middle way, horizontally, adapting my identity to
unsung singers like Walden, Kentuckian, Connie Hall
who let her heart fly away for Decca and Mercury:
"Fool Me Once" and "It's Not Wrong." Vera Hall, too,
Alabaman, beautiful, unknown songstress Alan Lomax
recorded as she spent most of her time as domestic
servant: who knows but what she might have been a
force like Zora Hurston, who also knew service as a
domestic: or consider our July, "the slave girl," who
started having babies at twelve and cleaned houses for
somebody else all her natural-born days and
died a slave's life, though she lived after the
Emancipation which "freed" her into
frustration and poverty during Reconstruction. Help me
understand how women like Vera Hall could sing
the caged bird's tune and make a living as a
washerwoman and cook: help me not
forget the African-American woman from Livingston.