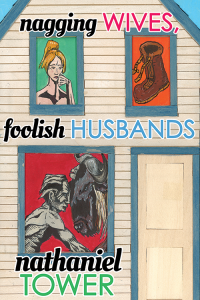 Laura Madeline Wiseman: As a poet, I'm interested in how one puts together a collection of poems compared to how one puts together a book of poems. Short story collections, too, can be arranged in particular ways (e.g. the best hits, linked stories, a composition novel, etc.) on particular themes (e.g. coming-of-age, marriages, travel), or with a particular esthetic in mind (e.g. the surreal, nature writing). Talk about your process in arranging and finalizing the stories in your book Nagging Wives, Foolish Husbands (Martian Lit, 2014).
Nathaniel Tower: I think Nagging Wives works both stylistically and thematically. I actually wrote all but one of the stories before I ever even had the idea to make the collection. At some point, I noticed I had a bunch of stories that fit together. I didn't consciously choose to sit down and write a bunch of stories with nagging wives and foolish husbands. "Gorilla Guest" was the only story I wrote after I started to assemble the collection (interestingly enough, it is the story that contains the title reference). Even that story wasn't intended to be part of a collection when I began writing it.
Putting together a collection is always a challenge because you have to make difficult choices regarding ordering and inclusion. I ended up throwing out a couple stories I really liked because I felt they would disrupt the overall tone and flow of the collection. That's not to say the whole collection is all driven by one tone, but the stories are all pieces that work together. For me, greatest hits story collections—just like greatest hits albums—typically aren't enjoyable as a whole because they don't represent a cohesive vision.
LMW: In Marilyn Krysl's essay "Satire, The Craft: A Partial Handbook" she discusses the tools writers use to add humor to their work—irony, stock characters, parody, understatement, and caricature, as well as tone, image, setting, pacing, and others. Nagging Wives, Foolish Husbands is a collection full of wit. Talk about your use of humor.
NT: I never give humor much thought while I'm drafting a story. I don't sit down and try to figure out how to make something funny. Humor isn't something that can be forced upon the reader. It has to be a naturally occurring phenomenon in a story. For humor to work, it has to be delivered in a way that flows within the context of what is happening in the story. Oftentimes, I think the surreal nature of my stories sets up the humor, but there is still the matter of execution. There isn't much inherently funny about giving birth to a boot or finding a wildebeest in a laundry room. These are just oddities. The humor comes from how the characters react and what they say. When I go back and reread my stories, the funniest parts to me are always the dialogue. Of course, a lot of the humor is built through delivery, as well as how the reader actually reads the words. When I'm reading one of my own stories, I know exactly how I want it to be read. The careful part of humor, as with any aspect of writing, is making sure the reader is forced to read the piece in a certain way. It's similar to telling a good joke and why we laugh when a comedian tells it but not when our bumbling friend rehashes it. Timing, pacing, word choice, delivery are all essential to getting the laugh out of the reader.
LMW: In Laurie Foos' interview in The Writer's Chronicle, she says that her novels "generally begin with a line, or an image, or a metaphor." How do you begin your short stories—a line, an image, a metaphor, a character, a scene, a feeling, a piece of dialogue, or something else?
NT: My stories generally begin with a line that introduces the surreal element. I prefer to throw the reader immediately into the story by telling them there's a wildebeest in the laundry room, or a woman gave birth to a boot, or a man's hands are made of oats. For me, this is the best way to achieve "suspension of disbelief." I don't want to give the reader the opportunity to question how or why this is happening. I'm not an overly descriptive writer, so starting right away in the middle of the scene is a way for me to build the surreal into something believable.
What is inspiring you these days? Lately I've been more focused on discussing the craft of writing as opposed to writing fiction.
How are you trying to get better as a writer? By reading as much as I can.
Number of short story you own: Too many but not enough.
Number of short story collections you've read: I've lost count.
Ways you promote and serve other writers: My biggest contribution probably comes from running Bartleby Snopes Literary Magazine and Press. I also read and share the stories of others as much as I can. And by providing feedback to other writers (when they ask).
Where you spend your earnings from writing: On books and records.
Residence: Minneapolis.
Job: Internet Marketing.
Education: B.A. in English Literature and Secondary Education with a Writing Minor.
Bio: Nathaniel Tower lives in the Twin Cities area with his wife and daughter. After teaching high school English in Missouri for nine years, he decided to pursue writing and marketing in a colder place. His fiction has appeared in over two hundred online and print journals. Nathaniel is also the founding and managing editor of Bartleby Snopes Literary Magazine and Press. When he's not doing writerly things, he likes to listen to records and joggle (juggle and run simultaneously). He is the former world record holder for running a mile backwards while juggling. He is working on getting his record back. Find out more about Nathaniel at nathanieltower.wordpress.com.
Where we can find your book: Amazon or the Martian Lit website.