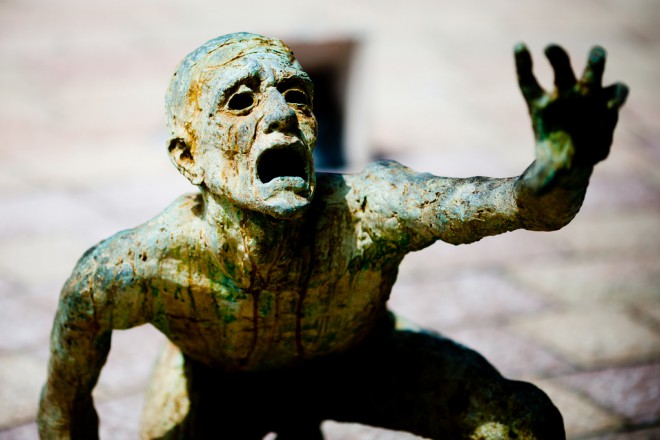 The seaweed men patrol the icy town
with sticks wrapped in bumbergrass
their hooked beaks hissing steam,
eyes painted open against the twilight.
They trudge the streets like shaggy
marionettes, boots cracking glazed tarmac,
past tiny houses asleep in banks of snow.
The white mountain looks down on suburbia.
Bracken-clad and thistle-shod, the watchmen
pause, two fuzzy pillars holding up the sky.
Who are these fur-girded sentinels, guarding
the precarious stillness, listening for a shot?
Despots and their henchmen never dress up silly.
The uniforms, medals and gold lapels–each button
sewn tight against beatings, collars crisp
as the edge of a blade, shoes black as bruising.
The green men mock us with their small parade,
marching in line, then two abreast, officious–
bumbersticks perched on their left shoulder,
palace guards unblinking in time of jubilee.
Legume-coloured pantaloons, be proud.
I couldn't find your names on Wikipedia.
If you shed tears from those golf-ball eyes,
I'll be none the wiser, and very far away.
Everything has a name, a place, a purpose.
But when two green life-size puppets appear
in an elderly neighbour's hedgerow, do you
ask them in for tea? Or hide the china?
The green men mock us with their small parade,
trudging the streets like shaggy marionettes
their hooked beaks hiss, they clutch bumbersticks,
each eye painted white against the dawn.