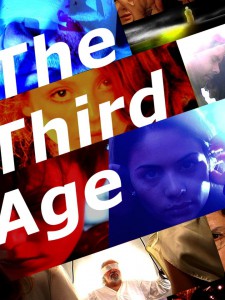 The Third Age is an original dramatic, sci-fi show created for the web, and I'm very excited to be launching the show on Martian Lit. For the next six months or so, we'll be releasing a new episode every week, telling the story of ordinary people crossing paths with mysterious supernatural forces on the streets of New York City.
The series has been a labor of love for co-creator Jordan Rennert and I. When we started filming in 2007, we were fresh out of college, and eager to be producing something. Over the almost five years since then, we've worked on The Third Age on the side, while moving through bigger projects like two feature length documentaries, Grant Morrison: Talking With Gods and Warren Ellis: Captured Ghosts (developed in collaboration with Sequart Research & Literacy Organization).
The early days of the show were raw, and a great learning experience. I think we improved a lot over the course of the series, but I'm also proud of the early episodes, and the story that we tell over many, many webisodes. We previously released Volume I of the story (comprising the first thirteen episodes), but I've gone back in and re-edited all those original episodes, tightening and hopefully strengthening the storytelling.
The plan is to release the remastered Volume I one week at a time, then move right into the new second volume episodes. And it all starts next week. See you then!