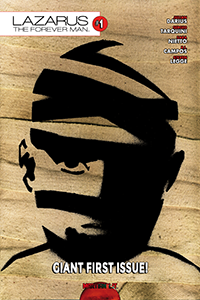 This is just a quick note to say that our Kickstarter for the 70-page Lazarus, the Forever Man#1 has just two days remaining! It's a weird story about the Biblical Lazarus, how immortality works, negotiating multicultural identity, and overcoming depression… the kind of offbeat comic that Kickstarter was made for.
The issue continues to expand our Martian universe, which began in Martian Comics.
If you haven't gotten a chance to back the new issue, just $6 gets you the 70-page issue #1 along with the 24-page issue #0! That's 94 pages of comics for $6!
But the most important thing you can do is to share the project. Making comics is a wonderful experience, but it's easy for a project like this to get lost in the bustle of social media. If you're willing, consider sharing the Kickstarter in these final days.
I hope you're doing well and that you have a wonderful holiday.
Love,
Julian