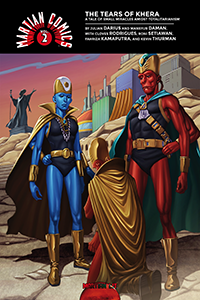 Martian Comics Vol. 2: The Tears of Khera is now available as an oversized graphic novel!
The softcover book is over 11.5″ tall, showing off Mansyur Daman's beautiful artwork.
The Tears of Khera is an experimental 150-page graphic novel about a Martian girl living in a totalitarian city who miraculously cries purple tears. The story uses selective color and integrates in-universe artifacts into the narrative.
The book is written by Julian Darius, with art by Mansyur Daman; colors by Cloves Rodrigues, Roni Setiawan, and Fahriza Kamaputra; and letters by Darius and Kevin Thurman.
You can buy the book here.
We're in the process of getting more of our books into print. Thank you for bearing with us!