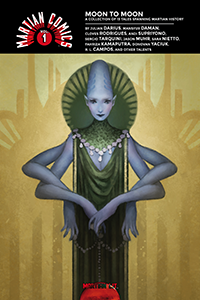 Our first collected edition, Martian Comics Vol. 1: Moon to Moon, is a beautiful 240-page book collecting 13 stories, written by Julian Darius with work by 15 different artists and colorists. The stories span 18,000 years (about 10,000 Martian years) of Martian civilization, from their moon landing to our own.
And it's on Kickstarter now, both in digital and as an oversized paperback!
The book features artwork by Mansyur Daman, Cloves Rodrigues, Andi Supriyono, Sergio Tarquini, Jason Muhr, Marlena Mozgawa Lenamo, David A. Frizell, Steven Legge, Sara Nietto, Ace Continuado, and Jeffrey Huet. Colors are by Fahriza Kamaputra, Donovan Yaciuk, R. L. Campos, Diego Rodriguez, Roni Setiawan, and Andrei Tabacaru. Letters are by Julian Darius, Steven Legge, and Colin Bell. The cover is by Janaina Medeiros.
Here's what some reviewers are saying about Martian Comics:
"Smart sci-fi with a grand scope" –Markisan Naso (Voracious)
"Fun and exciting… it really hit me right in my sci-fi nerd heart!" –Maddi Gonzalez
"Irresistible… brilliant" –Shelf Abuse
"Spectacular" –Forces of Geek
"Stunning" –The Pullbox
"Intelligent… refreshing… fascinating" –Reading with a Flight Ring
This book has been seven years in the making! And if you act in the next few days, you can reserve either the digital or the oversized print edition at a much lower early-bird price! (Your credit card won't be charged until the campaign ends on 5 June.)
Check it out on Kickstarter here.
Also, thank you for spreading the word about this Kickstarter and our comics! Projects like this live or die by word of mouth, whether it's in person or on social media. Getting eyes on our comics is a huge challenge (and a different skillset than making comics). Anything you can do to spread the word means we can focus more on making the best comics we can! Thank you!