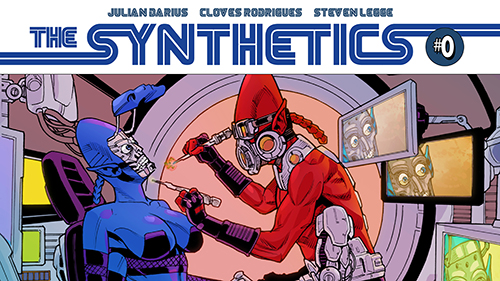 Martian Lit is proud to launch the Kickstarter for our comic book The Synthetics #0! We're offering a signed-and-numbered print edition of the comic, limited to 100 copies and exclusive to this Kickstarter! And if you act now, you can get big discounts as an early-bird backer!
The Synthetics #0 is a 32-page color comic about an android sex worker on Mars! After one of her customers shows her a movie about evil robots, she explores how often robots revolt against organic Martians in those Martians' own fiction… and she begins to wonder whether these stories speak to a desire for robot domination.
The comic is written by Julian Darius, with art and colors by Cloves Rodrigues, and letters by Darius and Steven Legge.
Be a part of making this happen on Kickstarter now! Act now to lock in deep discounts as an early-bird backer! Thanks for your support! It means the world to us!