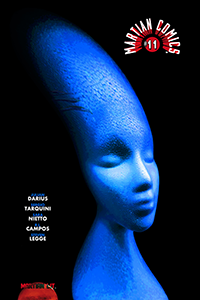 Martian Comics #11, featuring the next chapter of our serial "The Girl from Mars," is now on ComiXology! The 23-page issue is priced at $2.99.
The comic is written by Julian Darius, with art by Sergio Tarquini, inks by Sara Nietto, and colors by R.L. Campos. It's lettered by Darius and Steven Legge, with a cover by Darius.
If you prefer a DRM-free PDF of the comic, it's available here.
You can learn more about the series on its webpage and on Facebook. You can see the full series on ComiXology here.
This is Martian Lit's 16th comic, overall. You can see all of our comics on ComiXology here.