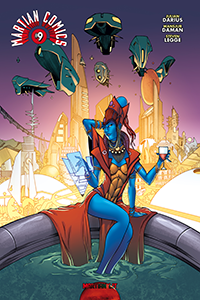 The ninth issue of our ambitious indy sci-fi comic Martian Comics is now on ComiXology! The 24-page issue is priced at $2.99.
The comic is written by Julian Darius, with art by Mansyur Daman. It continues "The Second Most Dangerous Game," which began in issue #8.
If you prefer a DRM-free PDF of the comic, it's available here.
You can learn more about the entire series on its webpage, on Twitter, and on Facebook. Or you can start here on comiXology with the first issue.