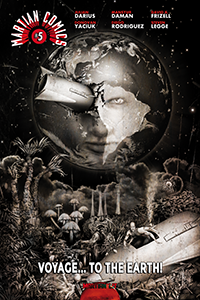 Martian Lit is proud to launch the Kickstarter for our newest sci-fi comic book, "The Canals of Earth!"
Watch as Mars looks to the sky and sees Earth, imagining her as a four-armed goddess with her own mythology!
Watch Martian science fiction blossom, as they envision four-armed, tall-headed people on all the solar system's planets, crafting pulpy stories reflecting their own imagination!
Watch as Mars spies Earth through a telescope and lands probes here… before human history even began!
The 23-page color story appears in Martian Comics #5, but it's totally self-contained and requires no knowledge of the overall series.
As part of the campaign, we're offering the issue in print in a limited, signed-and-numbered edition. We're also offering limited postcard prints and other goodies! Get 'em while you can!
We're convinced this is a major milestone in sci-fi comics. Be a part of making it happen on Kickstarter now!
For more information, you can visit the official Martian Comics page and see the series so far on ComiXology. You can also follow the series on Twitter and on Facebook. And if you sign up for our mailing list, we'll give you a free PDF book!