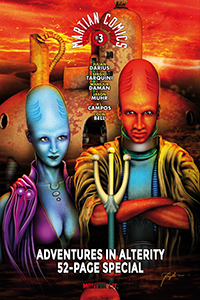 There's just 12 hours left on our Kickstarter for a special 52-page issue of Martian Comics.
We're close to our goal; in fact, we're less than $250 away.
Rewards include a print version of the series thus far, exclusive content, and Sequart books and movies that treat comic books as a serious and legitimate form of art.
If you've procrastinated, now's the time to make a difference and be part of helping make this fun sci-fi comic book come to life.
You can visit the Kickstarter, and watch its killer video, here.