Martian Lit is proud to reveal David A. Frizell's cover to Martian Comics #3: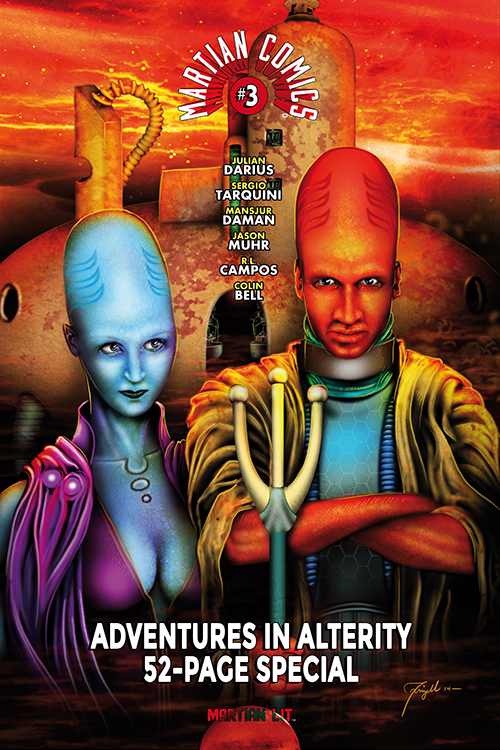 Yes, you read that cover right: it's a 52-page special. Besides continuing our main story, "The Girl from Mars," the issue includes five other stories: two by series artist Sergio Tarquini, two by Jason Muhr, and a longer story by Mansjur Daman. Each has its own flavor and twists. And each adds to the history-spanning tapestry we're building with this series.
Preparing this new issue has been a huge task, which is why there's been a bit of a wait after Martian Comics #2. But we're not going anywhere! We've just been secretly working on this biggest issue yet. In fact, we're already working on subsequent issues, and you'll be seeing more throughout 2015.
The only downside is that we've got far more pages in some stages of completion than you've seen yet. We've also run out of money. To help get us over this hump, we'll be turning to Kickstarter shortly to help us complete issue #3.
We sincerely hope to see you there! (And yes, there will be a print edition!)
In the meantime, check out our Martian Comics page, Martian Comics on ComiXology, Martian Comics on Twitter, and Martian Comics on Facebook!