Martian Lit is proud to announce its first Kickstarter… for its first comic book, Martian Comics!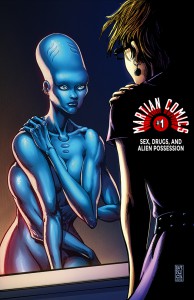 The first issue is written by Julian Darius and Kevin Thurman, with art by Sergio Tarquini, interior colors by R.L. Campos, and lettering by Colin Bell. The cover is by the legendary Darick Robertson, colored by Deigo Rodriquez. You can get the complete eight-page first story for free here, where you can read it online or download it a PDF or CBZ file.
Of course, we've got all the normal rewards for this Kickstarter — including a black T-shirt of Darick Robertson's beautiful cover art. But we're also doing something very different here.
We want Martian Comics to be an ongoing, but we're only officially asking for help finishing the first issue. But we've got stretch goals that fund additional issues. As those issues are funded, everyone with any reward at all — including at the $3 level — will get those additional issues too! Essentially, $3 gets you a subscription to all the issues this Kickstarter funds.
Thank you in advance for helping us make this Kickstarter a success and for spreading the news. It means the world to us.