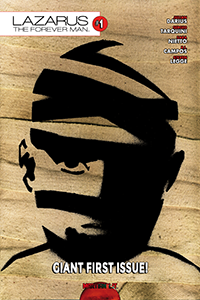 Martian Lit is proud to launch the Kickstarter for our newest comic book, Lazarus, the Forever Man #1!
The massive, 70-page first issue follows our 24-page zero issue, which reprints the first two Lazarus stories from Martian Comics, setting the stage for the new series. The stories focus on the Biblical Lazarus, resurrected by a Martian Jesus!
The issue is written by Julian Darius and penciled by Sergio Tarquini, with inks by Tarquini and Sara Nietto. It's colored by R. L. Campos and lettered by Darius and Steven Legge. Darius provides the cover, which was constructed using spraypaint and real bandages.
Be a part of making this happen on Kickstarter now!
For more information, you can visit the official Lazarus, the Forever Man page and see the zero issue on ComiXology. You can also follow the series on Facebook. And if you sign up for our mailing list, we'll give you a free PDF book!