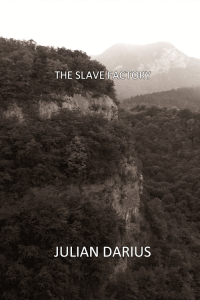 "The Slave Factory," a short book by Julian Darius, is available exclusively on Kindle for the low price of 99 cents — and is free to read for Amazon Prime members.
This work of short historical and literary fiction, consisting of 12 brief chapters, addresses a crucial but largely forgotten part of the slave trade: slave factories, or bases on the African coast that bought slaves and resold them to slaving ships. These were places of notorious suffering and exploitation, so much so that even white slavers looked down upon them.
The story explores this unique setting's fascinating dynamics. It examines the lives of both whites and blacks, uncovering how they intersect in surprising ways.
For more information, please visit this item's page here on Martian Lit or visit its page on Amazon.com.
We hope very much that you'll support this initiative. Fiction (especially smart fiction without vampires) is very hard to promote and sell, and it can really only succeed by word of mouth. We hope that the price of 99 cents, or free to read for Amazon Prime members, will encourage this sharing. Thank you very much for anything you do to make this promotion successful.