Martian Lit is now able to reveal its publishing plans through around mid-2018.
Our next release will be Lazarus, the Forever Man #1, featuring an ambitious 70-page story, illustrated by Sergio Tarquini and Sara Nietto. It deals with Lazarus's past suicide attempt, his coming to understand his immortality, his sense of identity as a Jew living in Athens, and how he responds to the history unfolding around him. We're putting the finishing touches on the issue now.
Next up will be Martian Comics #11, featuring the next 23 pages of chapter 8 of "The Girl from Mars," illustrated by Sergio Tarquini and Sara Nietto. Following the previous installment in issue #8, the story focuses on the assassination of Martin Luther King, Jr. It also begins to address the Robert Kennedy assassination, amid the turbulent politics of 1968. This issue should be published around the end of the year or in early 2018.
We're also preparing The Synthetics #1, featuring three stories of the Robot Revolution, a major event in Martian history that we haven't revealed yet. Each tale offers a very different perspective on the event, beginning with the 27-page story "Gladiators," illustrated by Steven Legge (Necropolitan). Legge also illustrates the second story, in which a Martian family is attacked by its own apartment! The issue concludes with a story about a droid who built a robotic god, illustrated by Kimot Ren artist Andre Siregar. This double-sized issue will likely be published in early 2018.
For our big anniversary issue, Martian Comics #12, we've got a special treat for you: two interconnected stories and a cover by Dean Trippe (Something Terrible)! Working with Dean has been a dream come true. The issue will also contain another big chunk of "The Girl from Mars," illustrated by Sergio Tarquini and Sara Nietto. This installment completes our 1968 section. The issue will also feature a 12-page story, illustrated by Cloves Rodrigues, set in the medieval period and further exploring the Martian Enlightenment program. The issue will also feature pin-ups of Izzy and Rita Montoya, from "The Girl from Mars," by Marlena Mozgawa. In total, this anniversary issue will beat Martian Comics #3 as the title's longest issue to date. Expect it in 2018.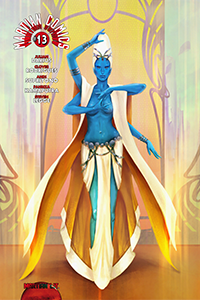 From there, Martian Comics will begin four (hopefully monthly) issues that complete our first set of Martian history stories. Issue #13 begins with "Foo Fighters," set during World War II and illustrated by Andi Supriyono (who illustrated "Cargo Cult" in issue #4). The issue also begins "Letters from the Underworld," illustrated by Cloves Rodrigues. That story continues into issues #14 and #15. Issue #16 features two stories. "Dinosaurs of Mars!", primarily illustrated by Mansyur Daman, examines the Martian obsession with Earth's dinosaurs. Secondly, a short story explores the Martian evacuation of New Zealand, prior to humans arrival there.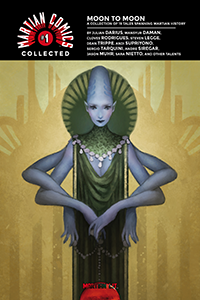 With this complete, we'll be able to offer our first collected edition: Martian Comics Collected #1, which will collect material from issues #1, 3-6, 8-10, and 12-16, along with The Synthetics #1. This massive volume will run 286 pages of story, plus more than two dozen pages of art and extras! It will collect some 19 separate stories spanning Martian history, all with firm dates that begin to establish our expansive Martian timeline. It will feature the work of an array of artists, including Mansyur Daman, Cloves Rodrigues, Steven Legge, Dean Trippe, Andi Supriyono, Sergio Tarquini, Andre Siregar, Jason Muhr, Marlena Mozgawa, David A. Frizell, and Sara Nietto.
Besides letting us complete this collection, issues #13-16 will help give us time to get ahead on "The Girl from Mars," which will return later in 2018, in issue #17. Once that story's current chapter is completed, we'll be collecting everything completed up to that point as The Girl from Mars Collected #1. With this collection, we'll essentially have the entire series in a couple big collected editions, making the series more accessible to new readers.
And yes, for those who prefer print, we're planning to offer print editions of these collections!
Meanwhile, Steven Legge is working on Necropolitan #2, and Andre Siregar will be focusing on Kimot Ren #3. Both should be done sometime in 2018.
We've got long-term plans here. We're hoping that 2019 is the year we're able to get almost everything we've published into collected editions. Artist Mansyur Daman is half done with an epic and experimental 146-page story, which I can't wait to show you. Believe it or not, we're hoping to get Martian Comics #25 out in 2019!
Of course, this is all dependent on my credit holding out, which is how I'm funding all of this. We'll be trying to keep things going with a few Kickstarter fundraisers. In the meantime, anything you can do to spread the news is a big help! Link to us on ComiXology, write a review, or just tweet about us! Audience is everything, and we wouldn't have made it this far without your readership and your kind support!
All My Best,
Julian