In 2016, Martian Lit published six comics: Martian Comics #4-8 and Kimot Ren #1.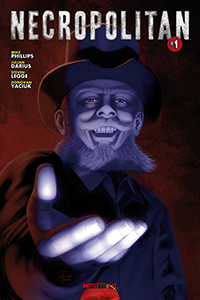 In addition, we've already hit the ground running in 2017 by publishing Necropolitan #1 (although it and Martian Comics #8 are not yet available on ComiXology, our reader's most preferred platform).
We started publishing comics in July 2014, with Martian Comics #1. Issue #2 came out in Nov 2014, and the double-sized issue #3 in Dec 2015. This means that two-thirds of the comics we've ever published came out in 2016.
As we look forward to 2017, we're thinking of our comics plans in terms of "phases." In addition to Necropolitan #1, the rest of Phase 1 will include Martian Comics #9-12, Kimot Ren #2, and the debut of Lazarus, the Forever Man with a giant-sized issue #0. Lazarus #0 will reprint the Lazarus stories from Martian Comics #2-3, along with a new, graphic novel-length story, making the issue a 100-page giant! We're planning to get all of this done in 2017.
At the end of Phase 1, we'll be able to offer our first two (non-Kickstarter exclusive) collected editions: Martian Comics Collected #1, collecting the first eight chapters of "The Girl from Mars," and Martian Comics Collected #4, collecting various other Martian stories spanning millennia. (The gap in the numbering of our collected editions is to leave room for the rest of "The Girl from Mars.") These two collections will reprint all of Martian Comics #1-12, with the exception of the two Lazarus stories reprinted in Lazarus, the Forever Man #0. (By then, we'll have published 16 issues, available in 2 collections and 4 uncollected issues.)
Then (stress and money permitting) we'll proceed with Phase 2! I've got it entirely mapped out, and we're working ahead to try to minimize any break between phases. I've even got pretty firm plans through Phase 5 and looser plans beyond even that. But first, we'll focus on wrapping Phase 1! With luck, 2017 will be the year we get our first couple collections out and begin Phase 2. Fingers crossed.
Thank you for your support! We couldn't do this without you!